Using simple yet extensive filtering conditions, it is possible to select recipients that will be subject to further manipulation - eg. create a new recipient list, edit data in bulk, copy, move or delete. Filters can be applied to one, multiple, or all mailing lists in the Mailkit account database.
To create a new filter, first click on the Recipient Filter button and then you can start creating the filtering conditions.

From the drop-down list, select the list or multiple lists from which you want to filter data: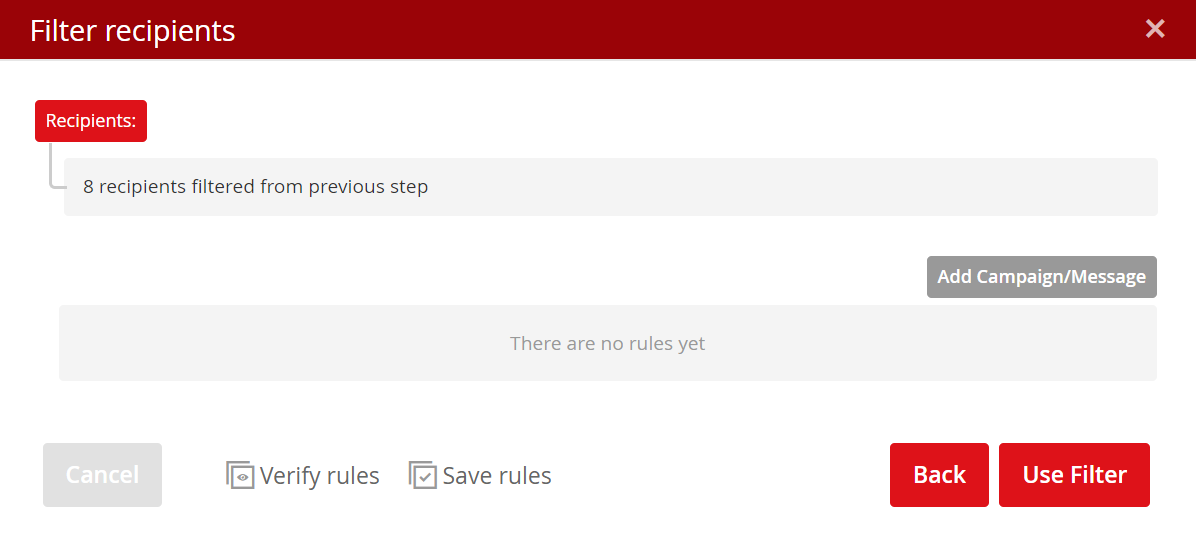 Next, you can start creating the condition rules. The first two steps of the Recipient Filter are the same as found in Delivery capping.
As you create your filtering rules, you can review the number of recipients that match the conditions you specify at any time by clicking Verify Rules. By clicking on the number of matching records, you can initiate an export of matching recipients to CSV (the file will be available for download in Notifications

at the top right of your window once the export is completed).
Created rules can be saved and reused later. To do this, use the Save Rules and Load Rules buttons. Rules management can be found in the Profile / Queries menu.
In the first step you can (but don't have to) add rules related to filtering data stored in recipient's records: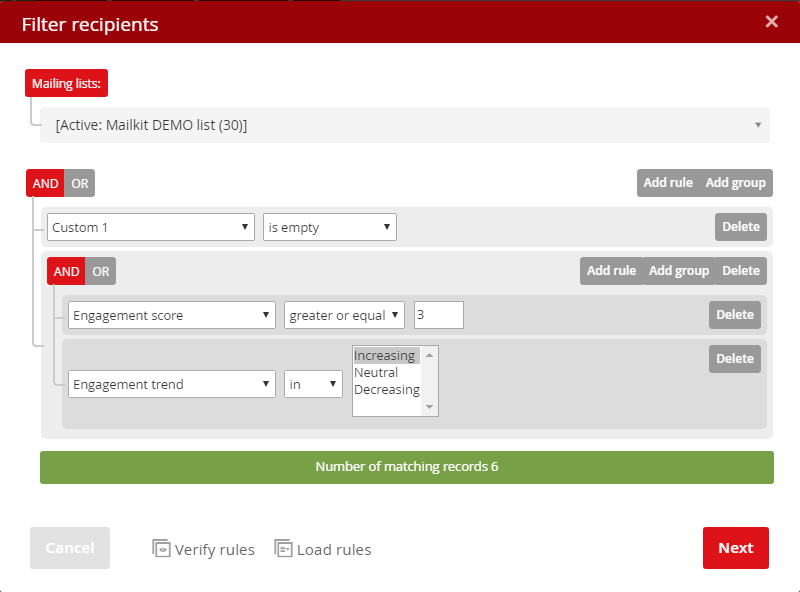 TIP no.1: Text field matching can be done using equal, not equal, begins with, doesn't begin with, contains, doesn't contain operators: All string matching is CASE INSENSITIVE.
Example: A city equals "prague" matches both "prague" and "Prague", "PRAGUE" or "PrAgUe".
TIP no. 2: String matching ignores diacritics:
Example 1: City equals "Červené Pečky" finds not only records with "Červené Pečky" but also "Cervené Pecky".
Example 2: City equals "Cervené Pecky" finds not only records with "Cervené Pecky" value, but also "Červené Pečky".
In the second step, you can (but do not have to) create rules related to recipient interaction with the campaigns: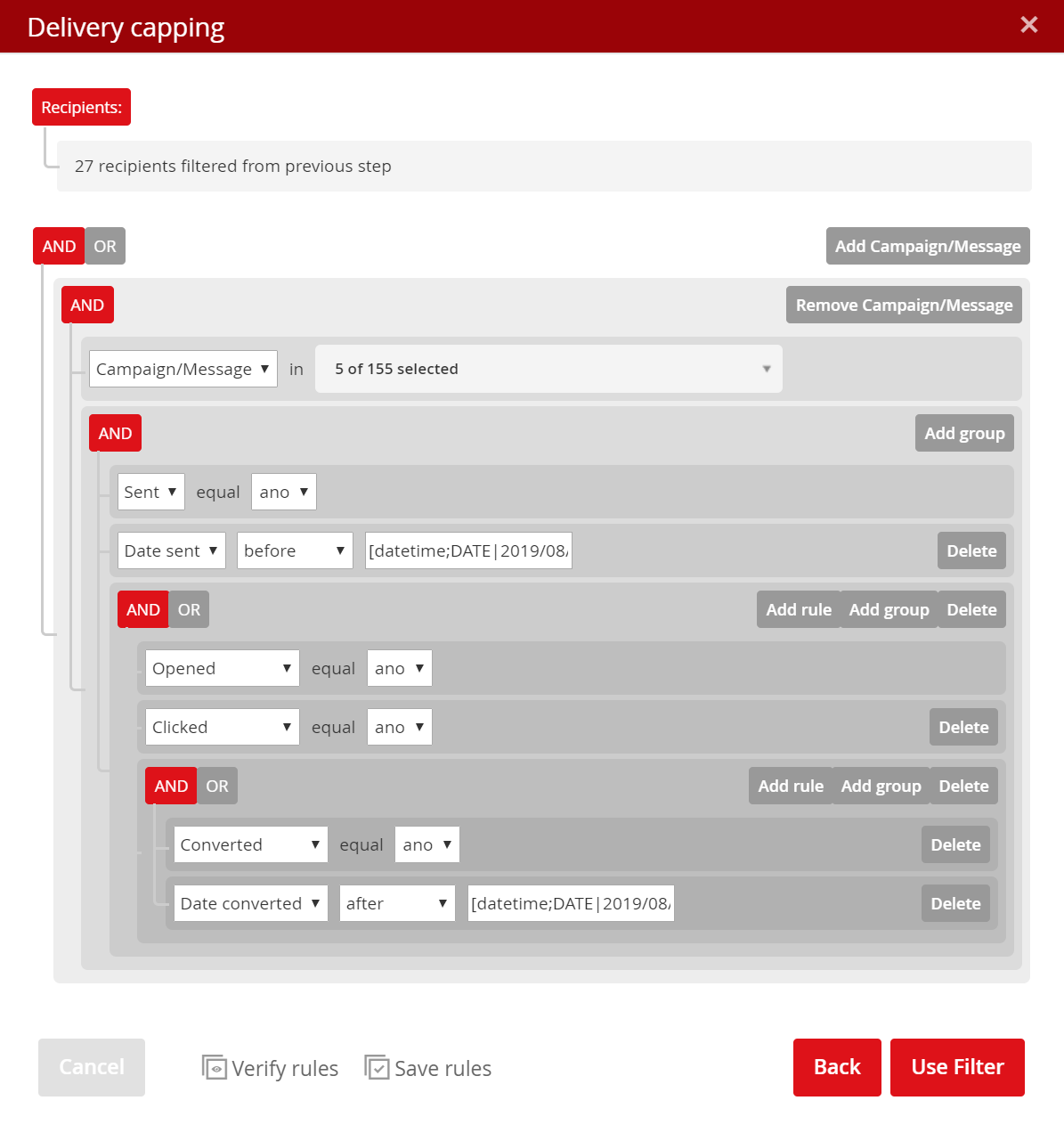 If you click on "Add Campaign / Message", you can select one or more campaigns or specific deliveries. You can only choose from campaigns that are less than one year old. In addition you can use the Add rule or Add group buttons to define whether the selected campaigns were sent to the receivers or not, whether the receivers have opened them or clicked on a link within these campaigns.
Once you click Use Filter, you will get to the third step of the recipient filter, where you can do actions with the resulting selected recipients. You can either process all records returned by your filter, or narrow down the selection by manually checking individual recipient emails.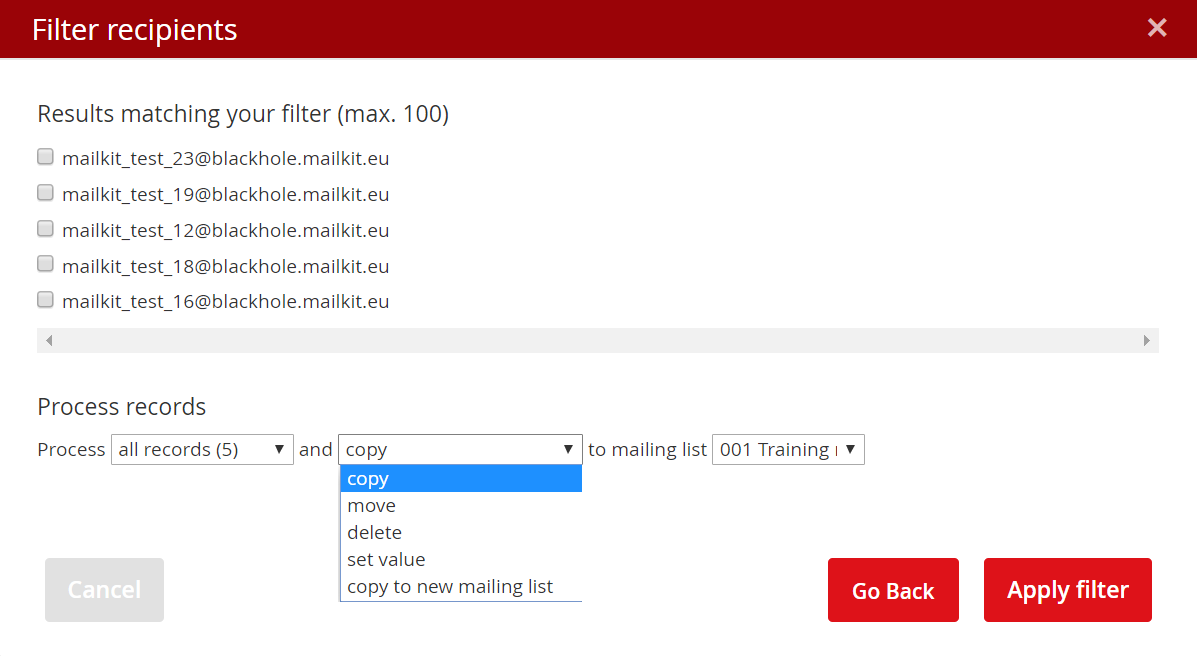 Actions that can be done with the filtered results:
copy: Copies the recipients to another recipient list. If the recipient already exists in the selected destination list, it will not be copied.
move: Moves the recipient to another recipient list. If the recipient already exists in the selected destination list, it will not be moved.
delete: Deletes the selected recipients.
set value: You can set a common value to selected recipients (eg in a custom field, recipient status, etc.).​​​​​​​
copy to new mailnig list: Copies the recipients to a new mailing list.
Click the Apply Filter button to perform the desired action.
TIP: We do not recommend creating new mailing lists based on segmentation as the data would be a snapshot of the original list at the time. You can then use the Delivery capping feature to create on-delivery segmentation and targeting for your campaigns. It is always better to maintain fewer lists with comprehensive recipient data in one place.