The File Manager provides you an interface from which you can manage files that will be used in your campaigns. Whether it's the images that are part of the campaign, or documents (.pdf, .doc, .xls, etc.) that will be attached to your campaign as an attachment, you can access and manage everything you need here.
In file manager, there are no limits on file size and total number of files allowed. However, when saving files that you use as part of or attached to your e-mail campaign, always think about the recipients of your campaigns - an overly large attachment, or an out of proportion image in the campaign may cause the recipient not to download your message, oversized images will turn off your subscribers. In the "ideal" case, the attachment should have a maximum size of 200kb. But you can send a larger attachment, because we understand that there are business cases when this may be unavoidable. Please do keep in mind that the larger the message you send, the longer the campaign will take to go out. This is actually for your own benefit as we need to throttle down the rate at which we send out large messages so that your campaign won't incur the wrath of the inbox providers.
What the file manager enables:
Seamless sorting of files in folders and subfolders
easy renaming of saved files and folders
easy movement of files between folders
bulk uploads of files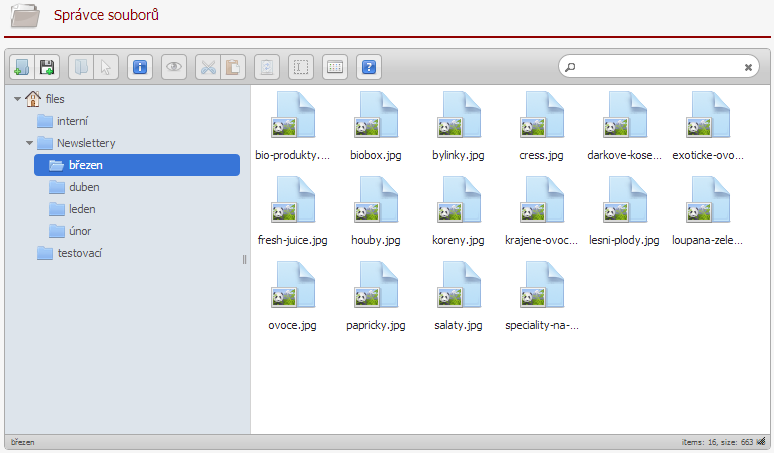 TIP: When saving images to use as part of your email campaign we highly recommend you resize them in you image editor to the size that they need to be for your email campaign. If you upload them using the file manager and resize them in the campaign manager, when sent they will still be oversized and the recipients device will resize them to fit the email. This is causes campaigns to load slowly and can annoy the recipient. Also, very large campaigns do not pass the check before sending.