Tags and Topics
Through campaign topics, you can give your recipients the opportunity to choose the focus and content of the messages you send them. Tags are the way you can better navigate your account and make your search easier.
Labels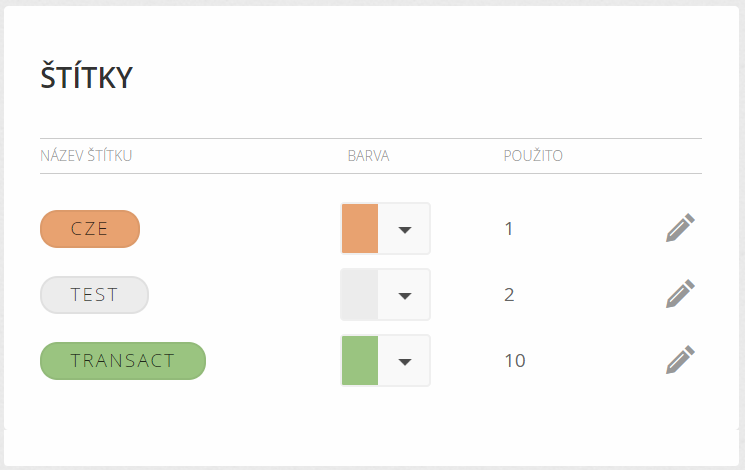 Labels are the way you can classify and filter recipient lists, data feeds, queries, templates, and campaigns to improve your account overview and ease your search.
There are labels in the Profile / Labels and Themes menu rename and define them​​​​​​​ color. Labeling itself and deleting itself depends on the label being used.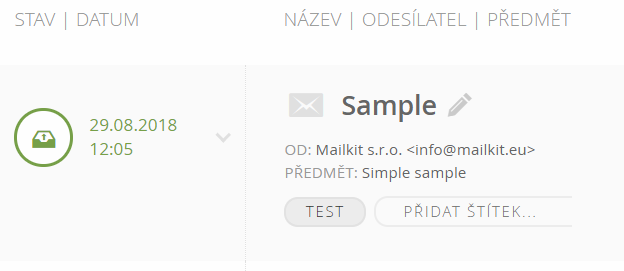 You will ​​​​​​​setup the label simply by creating it for any campaign, recipient list, template, or any data source.
You can cancel ​​​​​​​label assignment​s​​​​​​ by clicking the cross that appears after the cursor moves to that label. Once the label is no longer assigned anywhere, it will cease to exist.
Campaign themes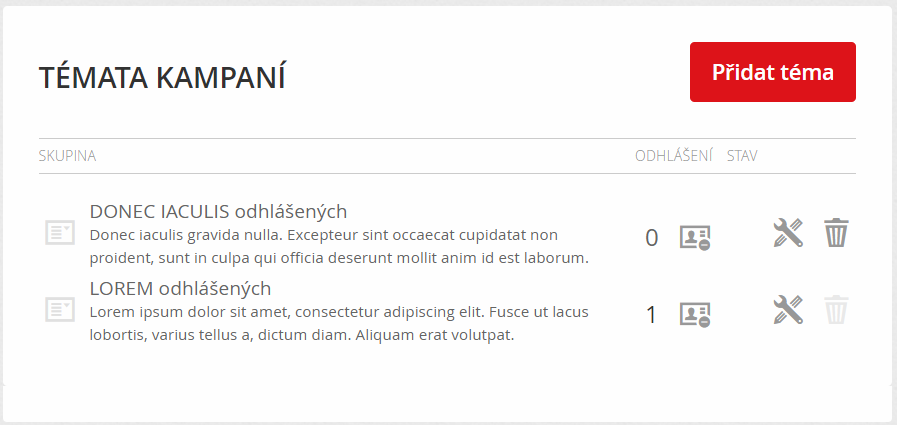 Campaign themes allow you to sort your campaigns into different types of targeting. Based on this division, recipients can determine their preferences about what types of messages they are interested in, which can improve the relevance of your messages and their subsequent effectiveness.
For example, if you send out three types of news - news, competitions, and press releases - all of these types of campaigns may not suit your recipients. That's why you have the ability to determine what type of e-mail is for each campaign, and if the recipient does not care about the type of message, you can simply choose what types of messages they want to receive and what they do not.
But be careful - if you can not clearly divide your campaign topics, this feature is not right for you!
Create a campaign theme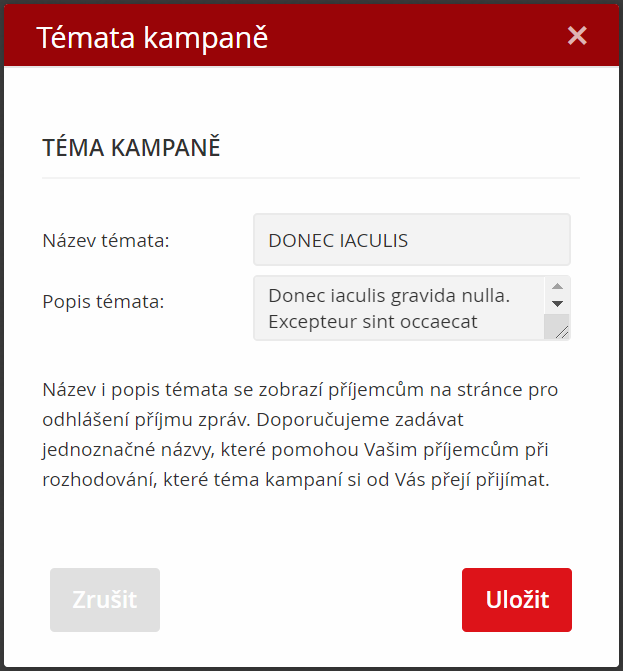 First, create a few topics in your Profile / Tags and themes to share your campaigns. To create a new topic, click Add topic.
Title and description of topics will be displayed to recipients on the Message Removal page where they will be able to choose whether to unsubscribe completely or just log out of some of the campaign themes.
We recommend that you enter unambiguous names to help your recipients decide what kind of messages they want you to accept.
Assign a topic to a specific campaign

Once campaign themes have been established, you must always choose a campaign topic for each campaign, or what type of communication is there. You select the theme from the Roller Bar in the advanced campaign settings.
For example, if you select a campaign to fall in the News topic, the message will not be sent to those recipients who have opted out of the News Campaigns. However, when you do not assign a topic to a campaign, this campaign will only be sent to those recipients who are not logged out of any campaign topic.
What a logout page looks like
Once you've established the opt-out groups, they will immediately apply to the sign-in sites. If you do not have a customized template customizable removal page, it will look something like this:
If you do not always have the topics on your opt-out campaigns, or you have more of them, but you want to display different ones for certain segments of recipients, you can hide all or some of the themes in your own template file.
Remove the campaign topic
Campaign theme can be deleted only when there are no unsigned recipients. If you need to permanently disable a topic, please contact us.