Campaign management
How to create, edit, adjust settings and send your campaigns...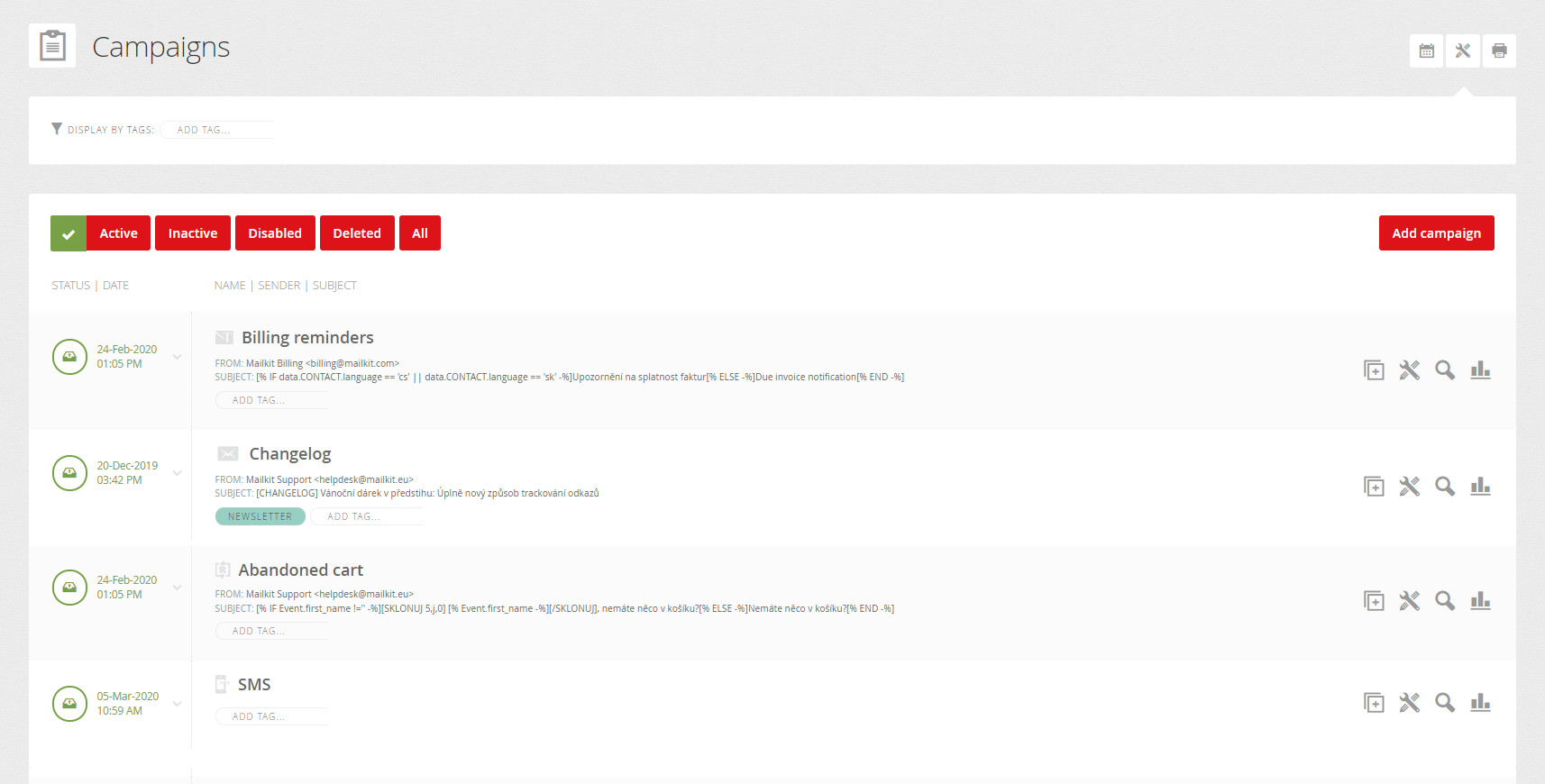 Overview and basic campaign management
All campaigns in your account are are automatically sorted by status into tabs:
Active – campaigns that have been edited or sent in the last month
Inactive – campaigns that have not been edited or sent for over a month
Disabled – campaigns that have been disabled (and can't be sent unless enabled)
Deleted – campaigns that have been deleted. The campaigns cannot be completely removed from your account to maintain the integrity of the reports. Deleted campaigns can still be viewed, but they can no longer be edited, posted, or revived.
All – all campaigns in the system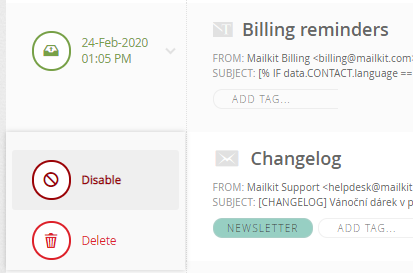 To delete, disable or enable a campaign, click the arrow to the left of the campaign name.
Icons to the right of the campaign name
– copy selected campaign
– complete campaign editing (as well as clicking on the campaign name)
– displays the campaign preview
– displays the campaign reports
New campaign
New campaigns can be created by clicking the Add campaign button at the bottom of the right panel. Enter the main campaign information when a new window shows up.
You can use, edit, and send your campaign repeatedly – always with the current content and to the current recipient list. You can always see in your reports when the campaign was sent, with what subject, content and specific recipients. For this reason, for example, one single campaign is sufficient for sending a regular weekly newsletter. Also, create new campaigns with a view to your future orientation in your account.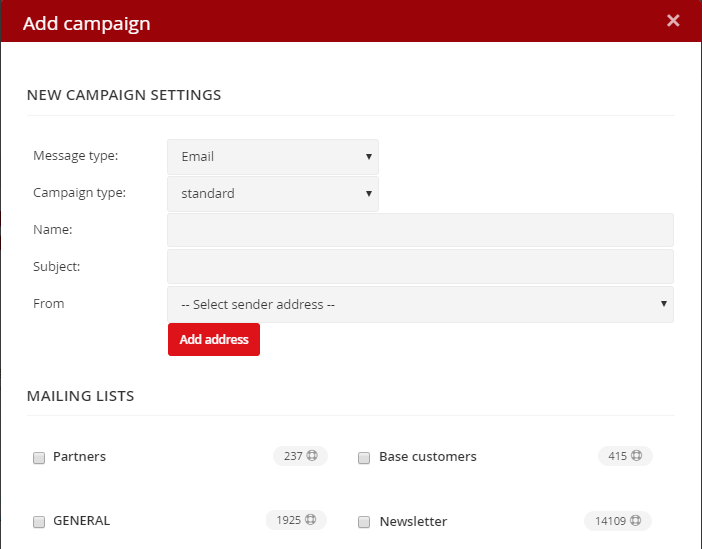 Message type: Email or SMS. This can not be changed later.
Campaign type: standard or remarketing
Name: Name of your campaign that will show up in the list (used for identification only).
Subject: Enter the subject of your campaign. This will be displayed to your recipients in the subject line. Subject can be changed at any time.
From: Select your sender address from the pull-down list. To add a new address click the Add address button and enter the desired email address. An email containing a verification link will be sent to this address. Once you click the link to verify the address will be available in the system for you to send your campaigns. Campaigns can be sent using verified addresses only. If you don't see the address you have added in the list it means it has not been verified yet. For more information see Address management.
Mailing lists: Select one or more mailing lists you want to send your campaign to. If you don't see any mailing lists you have to create one first. In case you select multiple mailing lists the system will take care of duplicate recipients during delivery. Mailing lists can be assigned later on.
Campaign details
Once you have created your campaign you can change it's settings and content. By clicking the name of the campaign in the campaigns list you get to the campaign details page.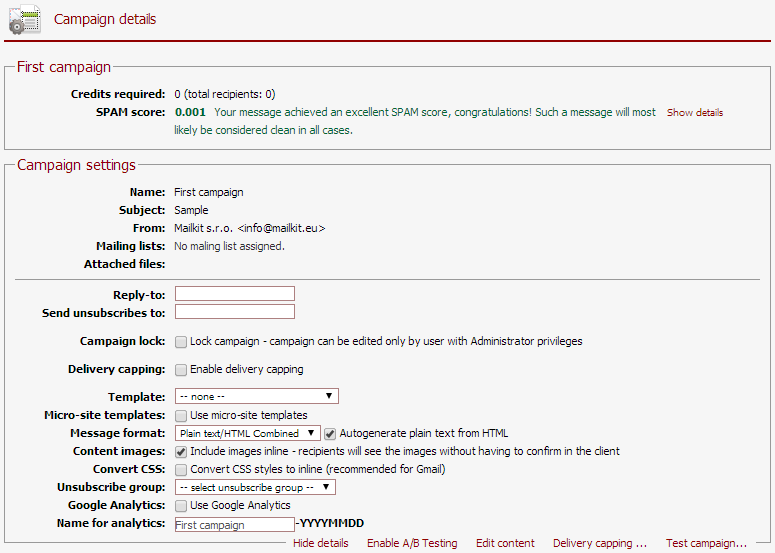 This is where the most important settings of your campaign are found. You can edit the values by moving your mouse over each row and clicking the Edit button and editing the selected value. You can change the Name, Subject, Sender address, mailing lists as well as attachments this way.
Attachments - you can attach any file to your emails. The file has to be uploaded first into the system using the File manager. By clicking the Edit button you will be presented with a list of all files available to be attached. All recipients will receive similar attachments.
TIP!: If you need to send each recipient a different attachement you can do it the following way:
1) save each file to your website so each file has it's URL address (eg. www.mailkit.eu/guides/mailkit-quickstart-en.pdf)
2) add a custom field to each recipient (eg. "custom 20") with the URL address of the file to be used as attachment in the following format: http_attach://www.mailkit.eu/guides/mailkit-quickstart-en.pdf
3) insert the following into the HTML body of your campaign:

<!-- attach_hidden [CUSTOM20] attach_hidden -->
Agency/Corporation/Government - assign the campaign to a specific client or department.
Clicking the Show details button will reveal some additional options for your campaign:
Reply-to - if you would like to receive replies to your emails to a different address than the one use to send your campaign enter the address here. Email addresses can be personalized per recipient - the personalized reply-to address can be set in the mailing list's recipient's detail.
Send unsubscribes to - you can enter a custom email address where you want the unsubscribe notifications to be sent to. By default the notifications are sent to the sender address.
Template - select a template to be used with this campaign. See Templates.
Micro-site templates - you can have micro-sites built within Mailkit. If you do want to use a micro-site with your campaign select this checkbox.
Delivery capping - your campaign can be capped to a subset of your mailing list. Select this checkbox if you would like to use delivery cappaing conditions for this campaign. See campaign delivery.
Message format - Mailkit supports text / HTML combined, HTML only and text only emails. In most cases text/HTML combo is the prefered choice. Mailkit can also automatically generate the text version of your email from the HTML content if this option is checked.
Content images - if your email contains images you can choose to include them within the email body and forcing their display by default. It's not recommended to include the images if their total size exceeds 100kb.
Convert CSS - select this checkbox if you want your CSS styles converted into in-line styles for better compatibility.
Google Analytics - select this option to add Google Analytics tracking codes into your links for further web analysis.
By clicking the Enable A/B testing button you can enable A/B testing for your campaign.
Clicking the Edit button will display the editor where you can easily create and edit the contents of your email or SMS campaign You can also use import to fetch the campaign content from your computer or a remote webpage.
Delivery capping button lets you access the conditions used to restrict the campaign delivery only to a limited part of your mailing list. The delivery capping has to be enabled in detailed campaign settting in order for the conditions to be applied. Once it's enabled the Delivery capping button will have an (x) symbol attached. See campaign delivery.
Click the Test campaign to enter the email address you want your campaign to be sent to for testing. Test messages can only be sent to emails and are free of charge.
Campaign A/B testing
By clicking the Enable AB test button you will enable A/B testing of the campaign. It can be disabled by clicking the Disable AB testing. In Mailkit Base you can test two variants of your campaign differing only by subject and sender address. In Syndicate and Agency variants you can differentiate the campaign content as well.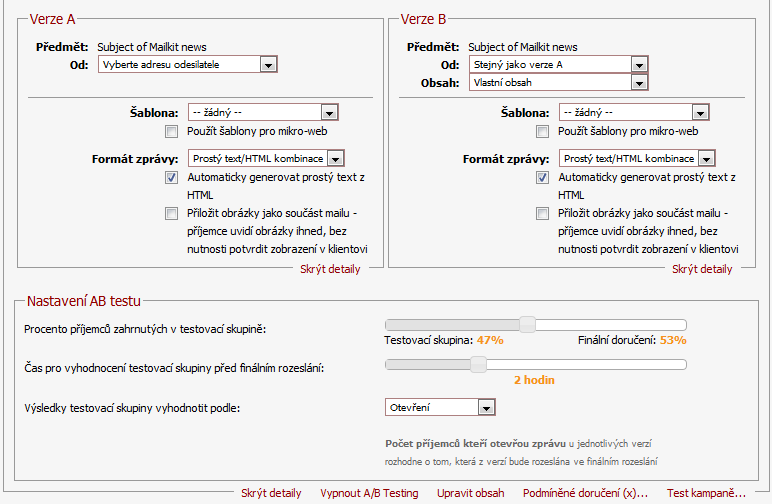 AB testing options:
Percentage of recipients to include in the test group: - select the size of your test group. If you choose 40% recipients to be part of the test group and send your email to 100 recipients in total then during the test phase 20 recipients will receive variant A and 20 will receive variant B. After the evaluation period has passed the remaining 60 recipients will get the more successful version.
Test group evaluation period before final delivery - set the time limit for test delivery evaluation. Minimum time is 10 minutes, maximum is 4 days. When setting the evaluation period always consider the size of your test group as well as the evaluation factor (eg. Opens can be evaluated sooner then Conversions).
Evaluate the test group results by:

Opens - The number of recipients opening each version will decide which version will be used for the final delivery.
Visits - The number of visits for each version will decide which version will be used for the final delivery.
Clickthru rate - the click-thru ratio - the ratio of visits to opens - for each version will decide which version will be used for the final delivery.
Conversion rate - The conversion rate for each version will decide which version will be used for the final delivery. Please keep in mind that the conversion code MUST be implemented on your website to measure the conversions correctly. You must also allow a significant amount of time (1 day recommended) for test evaluation.