Before you start importing, first open the list of recipients to which the new recipients are to be bulk imported - either by clicking on their name or the Recipients button in the appropriate row for a specific list. When you open the list, you click the Import button and the first part of the import guide appears in a new window.
Import Wizard
Use the Browse or Select File button to select a file to import from your computer. From the drop-down menu, then select the file type and click on the Continue button.
Supported file formats are: CSV, vCard, XLS, XLSX, ODS, and LDIF
You can also import addresses from these Internet services: Gmail, Yahoo!/OATH, AOL

The next part of the import shows a preview of the imported data (only the first 10 lines).
Although the system tries to automatically recognize all the parameters of your imported file, it is sometimes necessary, depending on the format of the imported file, to manually change the parameters so that the imported data corresponds to reality.
For each column, you must select the appropriate field type from the drop-down. Selecting the corresponding field is absolutely crucial as it will not be possible to change it later. Columns that have not been assigned fields will not be imported. Once you have completed assigning the corresponding fields to the columns, click Finish to import your data into the system.
Sample preview of imported data from XLS, XLSX, or ODS: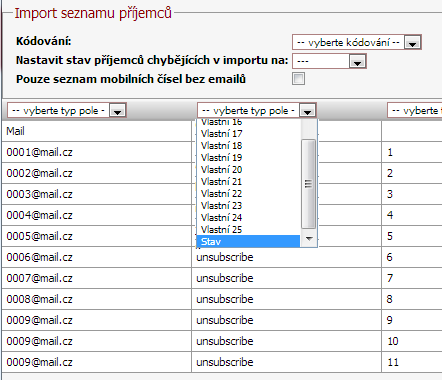 Sample imported data from CSV formats: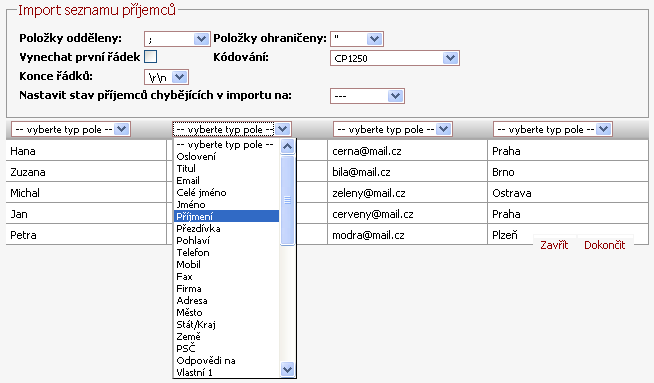 If you are importing an existing list of recipients to update with new data, you can set the Status of Recipients Missing in Import to Unsubscribed or Inactive in the drop-down:
Unsubscribed - the recipients who are missing from the imported file will be marked as unsubscribed in Mailkit
Inactive - the recipients who are missing from the imported file will be marked as inactive in Mailkit
The status of the recipient can also be directly updated by import. Just have a status value for each recipient in the appropriate column:
enabled (status active)
disabled (status inactive)
unknown (status unknown)
temporary (status temporarily unavailable)
permanent (status permanently unavailable)
unsubscribe (Status Disabled)
When the import is complete, an import summary is displayed - how many records were imported, how many were new, invalid (bad e-mail address format). Included is the option to export invalid entries:

Click the Close button to close the import wizard window and expand the list of recipients by importing the data.